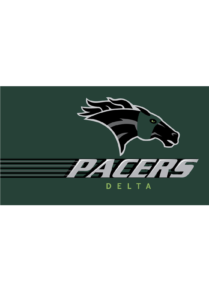 8-12 English
Population: 1,400
International Population: 120
Schedule: Grade 8 & 9 Linear.  Grade 10 – 12 Semester.
Principal: Mr. John Pavao
School Address: 4615 -51st Street, Delta, BC, V4K 2V8
Phone: 604-946-4194
Delta Secondary is located in the historical farming and fishing community of Ladner. Delta Secondary is a school rich in history and tradition and is home to the Genesis Theatre. The Genesis theatre is a 400-seat theatre and home to many theatrical, musical and dance performance for both the school and greater community of Delta. Our school offers a variety of educational programs and extra-curricular activities in the areas of academics, business, culinary arts, fine and performing arts, applied design and skills technology and athletics. We have a diverse range of sports teams, school clubs and academic courses and are a short walk from the school district's Film Academy. Ladner is centrally and conveniently located with excellent transportation links to other areas of Vancouver.
Delta Secondary has a population of 1400 students, with 90% of them speaking English as a first language. We are also home to over 120 International Students from around the world. Delta Secondary highly values the contributions made by its International Students.
Claire George
District Principal – High School Student Support (Delta and South Delta Secondary Schools)
Telephone: 604 952 5332
Cell phone: 604 562 4064
_______________________
Jinny Lalonde
International Student Coordinator
Telephone: 604-943-7407
SECONDARY SCHOOLS